(CMR) The Cayman Islands welcomed 1,027,668 visitors in 2022, with 743,394 cruise passengers and 284,274 stayover visitors. The figures for both cruise and stayover visitation exceeded goals set by the Cayman Islands Government.
Air Arrivals
For 2022, the Department of Tourism set a goal of 200,000 stayover visitors to achieve the Ministry of Tourism's goal of 40% of 2019 tourism tax revenue and a stretch goal of 256,000 visitors.
There was a slow start in January with 5,864 stayover visitors, but this increased rapidly month-on-month over the first half of the year, concurrent with the Cayman Islands Government's phased approach to reopening the country by easing travel restrictions.
All travel restrictions were lifted at the end of August, and air arrivals soared. Visitation during the last quarter of 2023 averaged 89% of 2019's numbers, and for the entire year, January through December, the Cayman Islands recorded 57% of 2019's visitation numbers. At the end of the year, stayover visits exceeded the Department's stretch goal by 11%.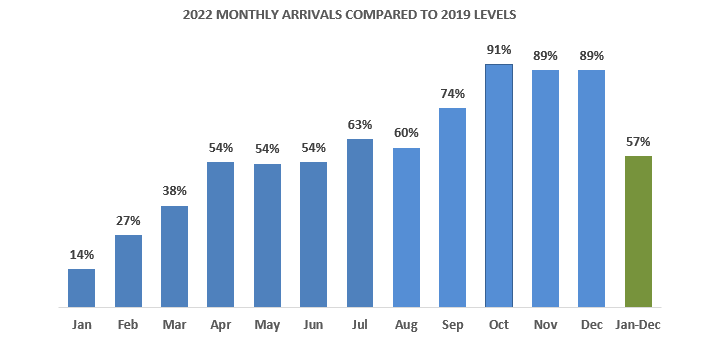 Commenting on 2022's stayovers Mrs. Rosa Harris, Director of Tourism shared that, "Confidence in the destination due to our measured and phased approach to reopening post the COVID-19 lockdown led to pent up demand which accelerated our visitation volume once all travel restrictions were dropped."
"The quality of our accommodations and attractions, retail offerings and restaurants as well as a vibrant events calendar, including such notable events as the Capella Music Festival, the Cayman Islands marathon and meetings and incentives groups continue to drive visitors to the destination," she added.
Though the United States accounted for 80.8% of all stayover visitors, UK and Ireland was the fastest recovering market in 2022, reaching 77% of 2019's visitation level. This was followed by Canada at 66% of 2019's level with Canada recording growth over 2019's numbers in July, October and December 2022. Latin America was the third fastest recovering market reaching 60% of 2019's visitation.
Repeat visitors to the islands represented 46.7% compared to 44.4% in 2019. Additionally, the average length of stay for visitors increased from 5.9 nights in 2019 to 7.6 nights in 2022. Based on data from STR Inc., which provides data on the global hotel industry, the average daily rate for hotels in the destination increased by 12% over 2019.   
Cruise Tourism
Cruise ships returned to the Cayman Islands in March 2022, and by December 2022, the destination welcomed 743,394 cruise passengers on 261 ships.
"Cruise tourism is the epicenter of Caymanian entrepreneurship representing a higher percentage of local business owners than any other aspect of tourism and is a vital part of our tourism offering," shared Hon Kenneth Bryan, Minister of Tourism and Transport.
"We'd like to thank our Partners in the Port Authority and our transport and water sports operators for their commitment to making the Cayman Islands a preferred destination for cruise passengers. We were pleased with the number of cruise visitors in 2022 and will continue to actively manage the volume of cruise both in terms of the quality of ships in port and the number of passengers who embark on our shores. We look forward to bringing cruise tourism back in a measured and sustainable way in 2023," he added.
Looking forwards to 2023
The destination has set an overall visitation goal of 70% of 2019's numbers and Mr. Bryan is confident that the Cayman Islands will achieve this goal.
"We anticipate that 2023 will be a momentous year for tourism with a full calendar year of visitors to allow us to reset our seasonality aligned with new expectations for travel post-pandemic," said Minister Bryan.
"Our accommodation, restaurant, and retail partners are primed to welcome guests, and we will continue strategic discussions with our airline partners to offer increased airlift to the destination to ensure a steady stream of visitors. We also look forward to working with our partners in cruise to further enhance and deliver an authentic destination experience.
The Cayman Islands Department of Tourism (CIDOT) supports the overall strategic objectives of the destination by providing reliable statistical data, useful information and analysis for future planning, decision making and policy formulation. CIDOT provides online statistical data in an easy-to-use format for persons requiring tourism-related figures.